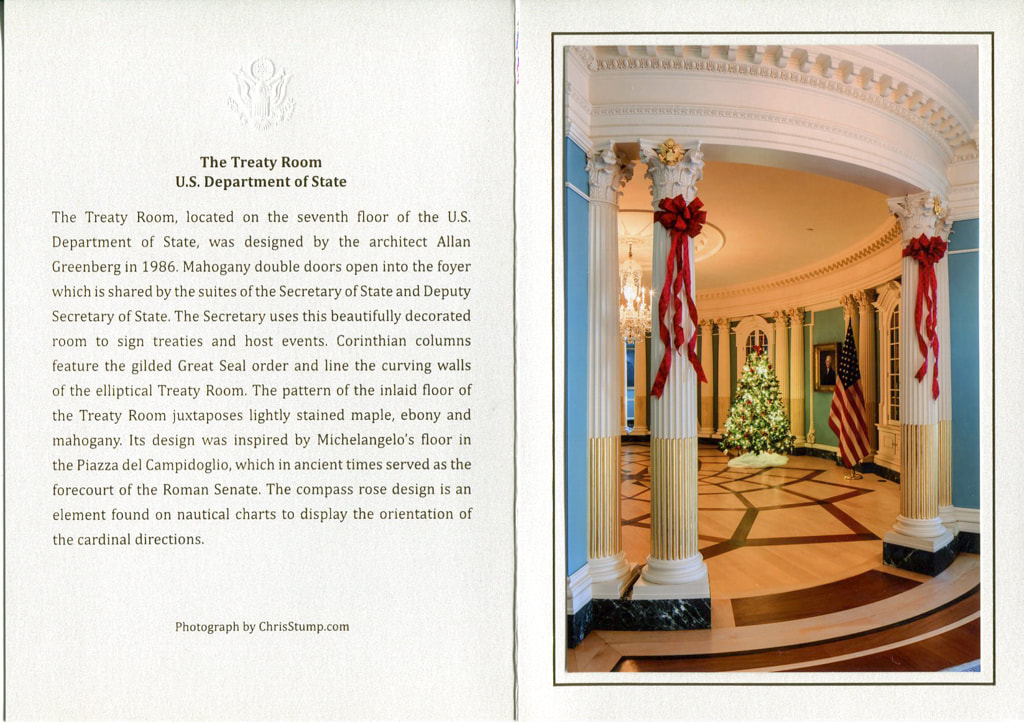 The image above is front and back of a Christmas card I shot back in 2015. Decorum dictates that one not talk about shoots like this contemporaneously or share the inside sentiment, but enough time has passed to tell you this story...

I'd been shooting off and on for various offices at the Department of State for about five years I guess when I got the most amazing email. I was asked to call the person designing the Secretary's 2015 Christmas card...likely his last one in office. I had worked with this designer on other projects, but we had recently moved from Alexandria to Newport so the request really was a bolt out of the blue...would I be able to fly down to Washington the following month and bang this out in a day? Yes, of course. I began making travel plans.

Since my color lab and sailing days I've often been amazed at how it is that attending to a little chore, mending a leak or a sail, or making some little upgrade can be the difference between success and, if not disaster, inconvenience and a rushed fix some day in the hazy future.

So it was here. I'd already recently upgraded camera bodies to a Canon 5DS...not that 50MP was going to be required for a postcard sized image but great to have the latest, and the new HDR features might come in very handy as I spent the rest of the day shooting rooms for another department who gotten wind of my visit.

In addition to the camera I'd finally found a sharp wide-angle zoom from Canon, the 16-35mm f4L. The corners on all previous lenses in this range had been mushy, but this guy was tack sharp all the way across...perfect for this type of indoor architectural work! Add in a new Tenba roller bag picked up on discount by joining some association and fresh umbrellas, light stands, and carry bag for lighting stuff and I was already kitted out.

I flew down the day before and stayed at a great old hotel close to State. That evening I calmed my nerves with a walk around the neighborhood, found a brightly lit outdoor restaurant and hearty dinner, and retired early.

The next morning, Nov 13th, was bright and beautiful. The walk to and then around the building to the security shack in front dragging all my stuff had me huffing and puffing. Whew. Up to an office or two, down to more security on the Secretary's floor, surrender phones and electronics, and get to work.

As is often the case, the art director already had a few ideas in mind but was open to suggestions. We decided on one main shot and agreed that I'd take a quick pass at the other two setups before leaving. This one took a few hours and involved scrims over huge windows on the right, and carefully snooted lights on the tree and flag.

While the 16-35mm was of great use later in the day, I ended up using the 24-105 f4L lens at 28mm for this. Exposure was 3 seconds at f8 in order to pick up a lot of ambient light. Post involved cloning in most of the floor from a shorter exposure to minimize the tree light reflections there.

I'd already checked out of the hotel and had my bags, so after a long day of shooting other rooms I grabbed a taxi over to Reagan National to meet a friend at Legal Seafoods. We had worked together in Pentagon City and it was great to catch up.

​As we were sitting there having a couple of beers CNN started showing clips of the coordinated terrorist attacks and bombing in Paris. Awful. We were stunned. I headed for my gate, he for the Metro home, both reflecting on how the world had seemingly changed. The change does not seem to have let up since then.